Healthy Cents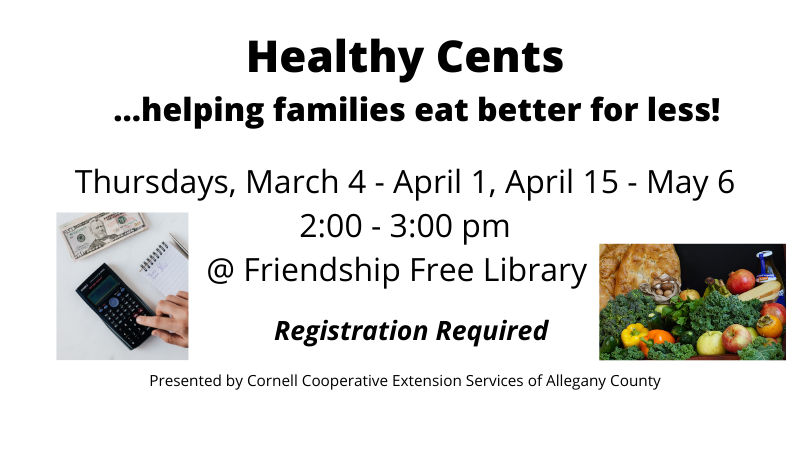 FREE Together Let's Chat:
Healthy Cents…helping families eat better for less!
Presented by Friendship Free Library in Partnership with Cornell Cooperative Extension of Allegany County. These classes are for adults Thursdays at 2 pm. beginning March 4 and running for 9 weeks (no meeting April 8). Participants must attend 6 sessions, including March 11 & May 6, to receive a certificate.
Topics covered include:
•What is Healthy Food? How Can I Afford it?
•Making Choices between Food Needs & Food Wants
•Developing a Plan that Works for You
•Food Budgeting Made Easy
•Food Shopping Strategies to Save You Money
•Smart Shopping for Fruits & Vegetables
Space is limited. Must Pre-register. Contact Edna at CCE to sign up at (585)268-7644 ext 20.
The Healthy Cents curriculum was developed through a collaboration of the University of Maryland Extension Food Supplement Nutrition Education program and the University of Maryland Department of Family and Consumer Science.
The Healthy Cents curriculum combines nutrition education and food resource management principles to encourage limited resource families to make healthy food choices on a limited budget.