Nourishing Your Family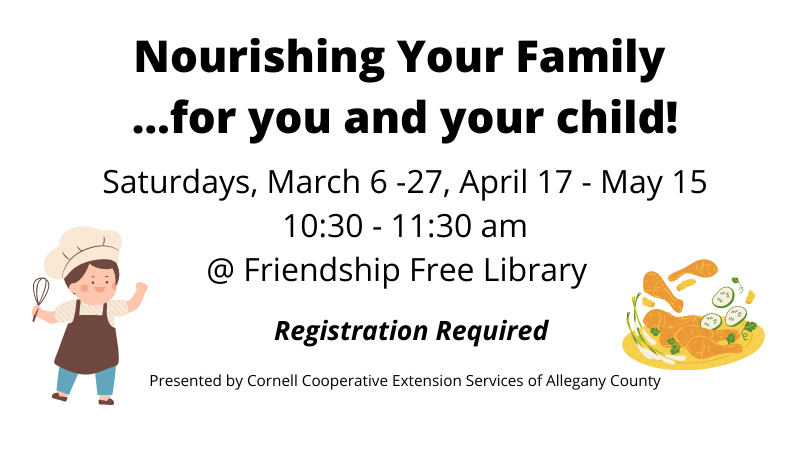 FREE Together Let's Chat: Nourishing Your Family…for you and your child!
Presented by Friendship Free Library in Partnership with Cornell Cooperative Extension of Allegany County. These classes are for an adult and one child, Saturdays at 10:30 a.m. beginning March 6 and running for 9 weeks (no meeting April 3 & 10). Participants must attend 6 sessions, including March 13 & May 15, to receive a certificate. Topics covered include:
• Eating Smart
• Food Safety
• Moving for Health
• Planning with MyPlate
• Sugar Sweetened Beverages
• Vegetables & Fruits – More Matters
Space is limited. Must Pre-register. Contact Edna at CCE to sign up at (585)268-7644 ext 20.
The Expanded Food Nutrition Education Program (EFNEP) is a federally funded nutrition education program for families delivered through Cornell Cooperative Extension Services of Allegany County. The program helps participants: increase their ability to select and buy food; learn skills in food preparation, storage and sanitation; and better manage their food budgets.
The EFNEP program provides nutrition education to low income families and children throughout New York State with hands-on, interactive workshops to help participants improve food and physical activity behaviors, food resource management, food safety and food security.
FNEC was developed by Cornell University.