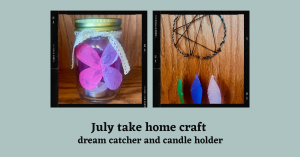 July Take & Make Craft Kits are here! Stop by the library while supplies last and pick up kits to make Candle Holders or Dream Catchers. You will get pretty much everything you need in the kits, including instructions, jars, and decorations for the candle holders, and wire, twine, and feathers for the dream catcher. Supplies are limited, and are available on a first come, first served basis. The two kits are separate, so you can take one or pick up both of them. As always, these kits are for ALL AGES, not just for kids.
Latest News:
The Library has established an outreach program for those folks who are unable to visit the library in person. If you are unable to get out of the house for whatever reason but would love to read a book just give the library a call and we can help. What is your favorite subject? If we don't have what your looking for we can get it from one of our 48 member libraries.
The Friendship Free Library is now fine free! As long as items are returned to the library, even if they are late, patrons will not be charged any fees. Patrons will still be responsible for any costs associated with damaged or lost items.
Forget to renew your item? No problem! We now offer automatic renewals on many library materials. As long as there are no other patrons waiting for the item, and you have not exceeded the maximum number of renewals on the item (2 for most items), it will automatically renew for you. There are no renewals on new items.
Many people move to town and have needs they over look when they arrive. The Friendship Rotary have put a booklet together that has local agencies that can help get families settled. ex :Emotional support, and food. There are many more…and we have copies of the booklets at the library. Stop by to take a look or pick one up!
Friendship Free Library
44 W. Main St
PO Box 37
Friendship, NY 14739
(585)973-7724
friendshipfreelibrary@gmail.com
Library Hours
Monday: Closed
Tuesday: 11 a.m. – 6 p.m.
Wednesday: 11 a.m. – 6 p.m.
Thursday: 11 a.m. – 6 p.m.
Friday: Closed
Saturday: 10 a.m. – 1 p.m.
Sunday: Closed