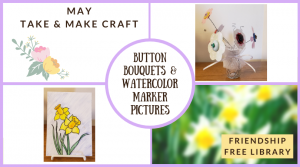 May Take & Make Craft Kits are here! Stop by the library while supplies last and pick up kits to make Button Bouquets or Watercolor Marker Pictures. You will get pretty much everything you need in the kits, including instructions, buttons, wire, tulle, a salt shaker, and ribbon for the bouquets, and a watercolor board, watercolor markers, and a brush for the watercolor pictures. Supplies are limited, and are available on a first come, first served basis. The two kits are separate, so you can take one or pick up both of them. As always, these kits are for ALL AGES, not just for kids, but these kits would make cute projects to make gifts for Mother's day.
Latest News:
The Friendship Free Library is now fine free! As long as items are returned to the library, even if they are late, patrons will not be charged any fees. Patrons will still be responsible for any costs associated with damaged or lost items.
Forget to renew your item? No problem! We now offer automatic renewals on many library materials. As long as there are no other patrons waiting for the item, and you have not exceeded the maximum number of renewals on the item (2 for most items), it will automatically renew for you. There are no renewals on new items.
Friendship Free Library
44 W. Main St
PO Box 37
Friendship, NY 14739
(585)973-7724
friendshipfreelibrary@gmail.com
Library Hours
Monday: Closed
Tuesday: 11 a.m. – 3 p.m.
Wednesday: 1 p.m. – 6 p.m.
Thursday: 11 a.m. – 3 p.m.
Friday: Closed
Saturday: 10 a.m. – 12 p.m.
Sunday: Closed