Open By Appointment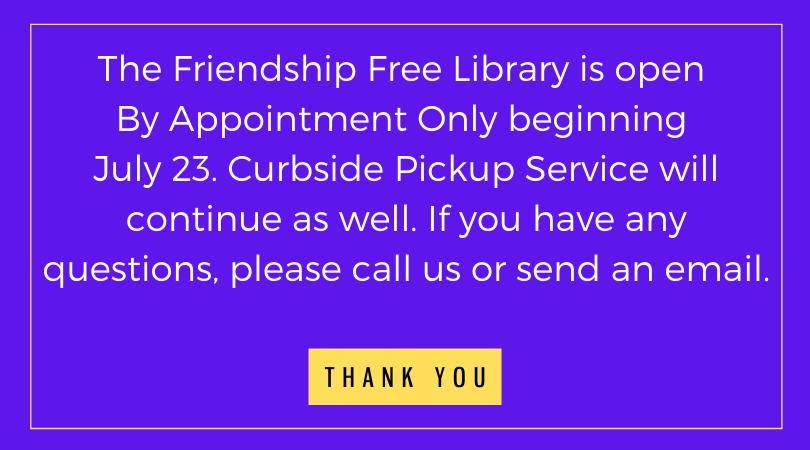 The Friendship Free Library will be open By Appointment Only beginning July 23. We will continue to offer Curbside Pickup service for library materials as well. Appointments and curbside pickup will be available Tuesday & Thursday 11am – 3pm and Wednesday 1pm – 5pm.  Appointments will be for 30 minutes. After each 30-minute session, staff will clean and disinfect the library.
Due to social distancing guidelines, admittance will be limited to 10 patrons at a time. For this reason, parents are encouraged to leave small children at home, as they count towards the 10 patron limit. Staff members will wear masks and anyone entering the library will be required to wear a mask. Access to public computers will be limited due to social distancing guidelines.
If the library is not at capacity, "walk in" appointments will be permitted. The front door will remain locked; patrons can call from out front or knock on the door.
If you have any questions, please call 585 973-7724 us or send an email to friendshipfreelibrary@gmail.com.
We encourage you to continue to use the library's online resources, such as Overdrive and RBDigital, for access to eBooks and eMagazines. You can also use StarCat, the online catalog to see what materials are available.